Vice-Admiral
Enlarge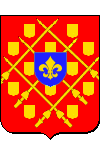 Pierre-Charles de Villeneuve was born at Valensole, Provence, on December 31, 1763.
At the age of fifteen, he joined the French Royal Navy and took part in the American War of Independence.
He participated in the French campaign in Egypt and distinguished himself at the battle of the Nile (August 1, 1798) by his lack of initiative. Commander of the French fleet's rear-guard, he let the main fleet be crushed, and then fled to Malta with two ships of the line and two frigates. However, it must be agreed that these will be the only vessels left intact.
On October 21, 1805, he fought Horatio Nelson off the Cape Trafalgar. Adopting a very bad battle layout, he provoked the defeat and destruction of the Franco-Spanish fleet: no less than 4,000 sailors died, and seventeen ships were lost during the Battle of Trafalgar.
Taken prisoner by the English, then paroled six months later, Villeneuve committed suicide at Rennes, Brittany, on April 22, 1806.
* * *
His name can be found on the 13th column (east side) of the Arc de Triomphe

in Paris.