Date and place
November 27th and 28th, 1812 near the Berezina river (now Belarus).
Involved forces
French army (49,000 men fighting and 40,000 late) under Emperor Napoleon the First.
Russian army under Tzar Alexander the First, Generals Mikhail Illarionovich Golenishchev-Kutuzov and Peter Wittgenstein, and Admiral Pavel Vasilievich Chichagov.
Casualties and losses
Grande Armée: 30,000 to 45,000 men (Most of them have not been direct victims of the fighting or even have not participated).
Russian Army: more than 10,000 soldiers.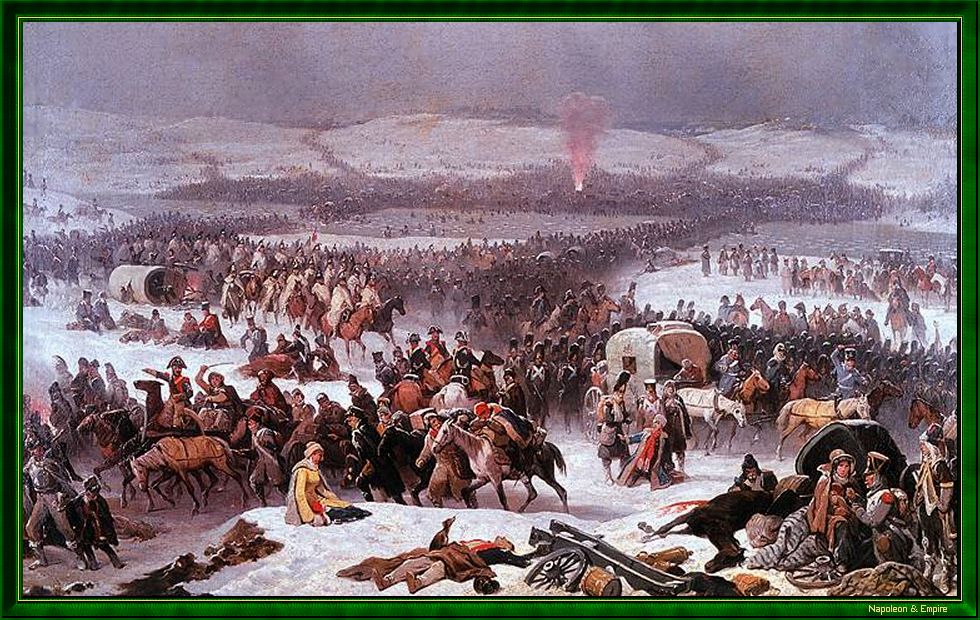 "Przejscie wojsk Napoleona przez Berezyne - Napoleon crossing the Berezina river" (detail). Painted 1866 by January Suchodolski.
Enlarge
Photo credits
Photos by Lionel A. Bouchon.
Photos by Marie-Albe Grau.
Photos by Floriane Grau.
Photos by Michèle Grau-Ghelardi.
Photos by Didier Grau.
Photos made by people outside the Napoleon & Empire association.