Date and place
June 9th, 1800 near Montebello in Lombardy (nowadays Montebello della Battaglia, Province of Pavia, Italy).
Involved forces
French army (5,000 men) under General Jean Lannes.
Austrian army (12,000 men) under feldmarschall-leutnant Karl Peter Ott Freiherr von Bartokez.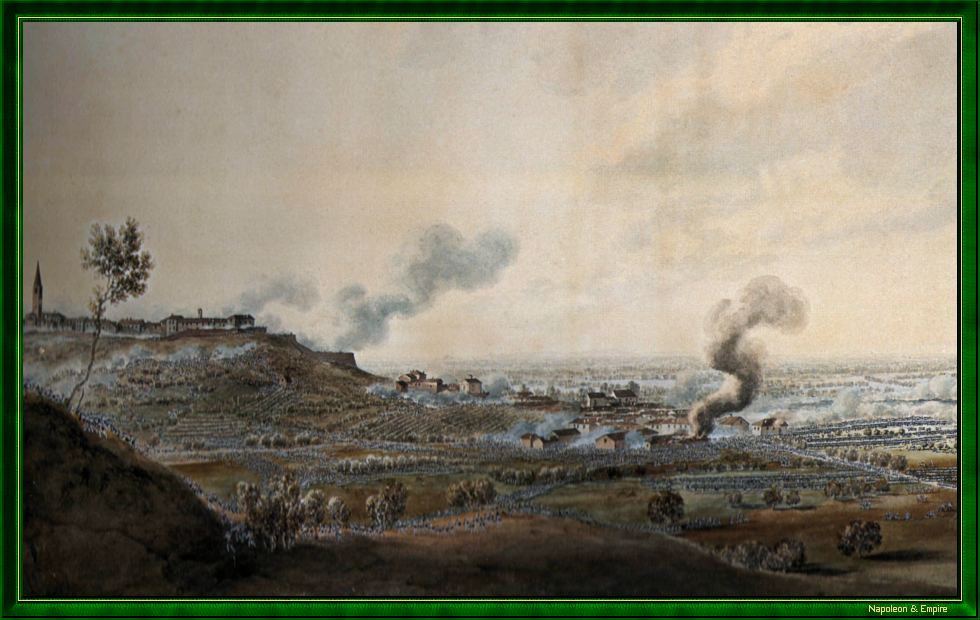 "The Battle of Montebello, June 8th, 1800. Crossing the Coppo river" (detail). Watercolor by Giuseppe Pietro Bagetti.
Enlarge
Panoramics of the battlefield of Montebello
The battlefield of Montebello, where First Consul Napoleon Bonaparte and General Jean Lannes defeated the Austrian army during the Second Campaign of Italy, on June 9, 1800.
Aerial panorama of Montebello battlefield
Photo credits
Photos by Lionel A. Bouchon.
Photos by Marie-Albe Grau.
Photos by Floriane Grau.
Photos by Michèle Grau-Ghelardi.
Photos by Didier Grau.
Photos made by people outside the Napoleon & Empire association.