Battle of the Nile (Battle of Aboukir Bay)
Date and place
August 1st and 2nd, 1798 in Abukir Bay, Egypt.
Involved forces
French float (17 ships), under Rear-Admiral François Paul de Brueys d'Aigalliers.
English float (14 ships), under Rear-Admiral Horatio Nelson.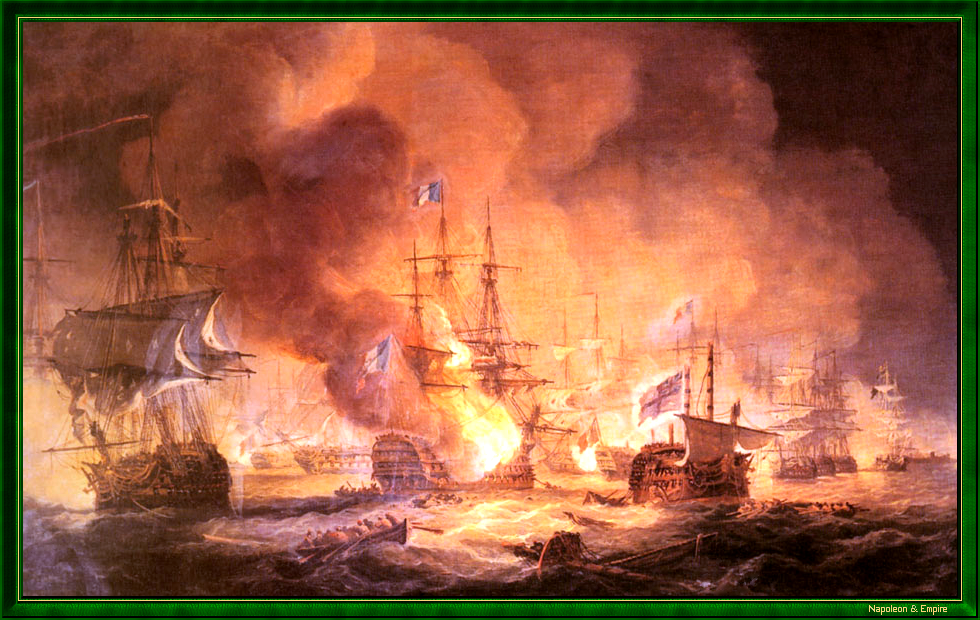 "Battle of the Nile, August 1st 1798 at 10 PM" (detail). Painted in 1830 by Thomas Luny.
Enlarge
List of ships:
French:
- Le Guerrier
- Le Conquérant
- La Sérieuse
- Le Spartiate
- L'Aquilon
- L'Artémise
- Le Peuple Souverain
- Le Franklin
- L'Orient (flagship)
- Le Tonnant
- La Diane
- L'Heureux
- Le Mercure
- La Justice
- Le Guillaume Tell
- Le Généreux
- Le Timoléon
English:
- HMS Zealous
- HMS Audacious
- HMS Goliath
- HMS Theseous
- HMS Vanguard (flagship)
- HMS Orion
- HMS Minotaur
- HMS Defence
- HMS Leander
- HMS Alexander
- HMS Swiftsure
- HMS Bellerophon
- HMS Majestic
(Didn't participate in the battle: HMS Culloden and HMS Mutine).
Photo credits
Photos by Lionel A. Bouchon.
Photos by Marie-Albe Grau.
Photos by Floriane Grau.
Photos by Michèle Grau-Ghelardi.
Photos by Didier Grau.
Photos made by people outside the Napoleon & Empire association.