Charles Louis of Austria (1771-1847)
Archduke of Austria, Duke of Teschen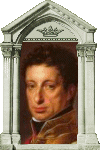 Enlarge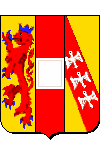 Born on September 5, 1771 at Florence , Tuscany, Charles Louis was the son of Holy Roman Emperor Leopold II (1747-1792) and his wife Mary-Louise of Bourbon, infanta of Spain.
His military career began during wars of the French Revolution, at Jemmapes, Aldenhoven and Neerwinden.
In 1793, his elder brother Francis II of the Holy Roman Empire awarded him the Grand Cross of the Military Order of Maria Theresa and made him Governor of the Netherlands. In 1794, Charles led an Austrian corps at the battles of Landrecies and Fleurus.
As the commander-in-chief of the German army during the campaign of 1796, he won the battles of Wetzlar, Amberg and Wurzbourg, against Jean Victor Marie Moreau and Jean-Baptiste Jourdan, and took Kehl and Huningue. He was only 25 years old.
In 1797, Archduke Charles encountered his most formidable opponent: General Napoleon Bonaparte, on the road from Italy to Vienna. They fought on March 16 near the Tagliamento river. Some days after, Charles had to retreat against Andre Massena at Larvis Pass. The armistice of Leoben, then the peace treaty of Campo-Formio were signed and hostilities ceased.
In 1798-1799, Charles defeated Jean-Baptiste Jourdan at Osterach and at Stokach, then victoriously fought against Andre Massena in Switzerland: at Heingheim on November 22, 1798, then at the first battle of Zürich.
He resigned on March 17, 1800, but took over from his brother Archduke John after the defeat of Hohenlinden, near Vienna, and had to sign the armistice of Steyr on December 25, 1800.
In 1801, his brother Emperor Francis II nominated him Chaiman of the Austrian War Council.
When war resumed in 1805, Charles led the Venetian army, fighting during three days against Massena at Caldiero, then coming backwards to Hungary after the capitulation of Ulm.
After the peace of Pressburg, he became Head of the Aulic Council of War and General-in-chief of Austrian armies.
After some victorious fights in 1809, he was defeated at Abensberg, at Landshut and at Eckmühl, near Regensburg. After the evacuation of Vienna, he participated in the terrible battle of Aspern-Essling on May 21 and 22, 1809, in which both armies lost many thousands of soldiers. However he was defeated by Napoleon on July 5 and 6, 1809 at Wagram, a few miles farther. Emperor Francis signed the peace treaty of Schönbrunn, prelude to an alliance with Napoleon. Charles resigned once again: Wagram would be his last battle.
He married in 1815 princess Henrietta von Nassau-Weilburg, who would give him seven children.
He died at Vienna on April 30, 1847 and was buried in the imperial crypt of Vienna .
An equestrian statue of Archduke Charles stands at the Heldenplatz of Vienna.

Acknowledgements
Photographs of the equestrian statue of the Archduke Charles and of his tomb are used by courtesy of Ms. Marie-Albe Grau.


Main portrait
"The Archduke Charles Louis of Austria, Duke of Teschen". Anonymous of the nineteenth century.
Other portraits