Marie-Annonciade, a.k.a. Caroline Bonaparte (1782-1839)
Grand Duchess of Berg and Cleves, Queen of Naples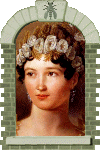 Enlarge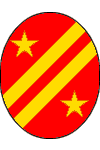 Younger sister of Napoleon Bonaparte, she was born on March 25, 1782 in Ajaccio , Corsica.
She married Joachim Murat and became Queen Consort of Naples and Sicily from 1808 to 1815.
She died on May 18, 1839 in Florence , Tuscany, Italy.
Main portrait
"Caroline Murat", by Jean-Baptiste Joseph Wicar (Lille 1762 - Rome 1834).
Other portraits