Charles IV of Spain (1748-1819)
King of Spain from 1788 to 1808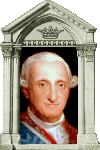 Enlarge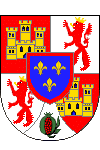 Born on 11 November 1748 at Portici, Two-Sicilies Kingdom, Italy, Charles was the son of King of Spain Charles III and Maria-Amelia of Saxony.
He reigned over Spain from December 14th 1788 (death of his father) to March 19th 1808 (abdication in favor of his son Ferdinand VII).
King Charles IV died on January 20th 1819 in Rome.
Los Correos de España (Spanish postal service) issued in 1978 a twelve Pesetas stamp featuring King Charles IV.

Main portrait
"King Charles IV of Spain" by Francisco José de Goya y Lucientes (Fuendetodos 1746 - Bordeaux 1828).
Other portraits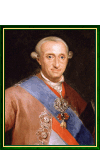 Enlarge
"Charles IV of Spain" painted in 1789 by José Vergara Gimeno (Valencia 1726 - Valencia 1799).