Yrieix-Pierre Daumesnil (1776-1832)
Baron of the Empire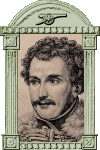 Enlarge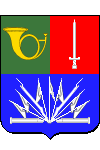 Yrieix-Pierre Daumesnil was born on July 14, 1776 (or 1777) in Périgueux.
He served during the French Revolution as an officer, then during the Consulate and the Empire as a General.
He died of cholera on August 17, 1832 at Vincennes and was buried in the city's cemetery.
A bronze statue honors his memory downtown.
In 1976, the French Postal Service released a 1.00 Franc stamp bearing the image of General Daumesnil .
Main portrait
"General Daumesnil". Nineteenth Century engraving.