Jean-Baptiste Isabey (1767-1855)
Commander of the Légion d'Honneur
Enlarge
Born on April 11, 1767 in Nancy, Lorraine, eastern France.
French miniaturist painter.
Principal Works: "Review of Troops by the First Consul", "Portrait of Napoleon at Malmaison", "Napoleon II King of Rome", "Madame Tallien", "Marie Laczinska Countess Walewska", "The Congress of Vienna", and many miniatures (bonbonnieres, snuff boxes, breast-pins...)
He died on April 18, 1855 in Paris, and was buried in the Père Lachaise Cemetery (20th division) .
Main portrait
"Jean-Baptiste Isabey with his daughter" (detail) by François Pascal Simon Gérard (Rome 1770 - Paris 1837).
Other portraits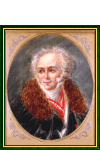 Enlarge
"Self-portrait" by Jean-Baptiste Isabey, 1831.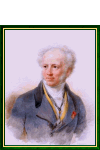 Enlarge
"Self-portrait". Watercolor by Jean-Baptiste Isabey.