Louis-François Lejeune (1775-1848)
General of the French Empire, Officer of the Légion d'Honneur

Enlarge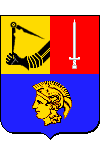 Born on February 3rd, 1775 in Strasbourg, Alsace, eastern France.
Painter and General of the French Empire.
Principal works: "The Battle of Lodi", "The Battle of Pyramids", "The Battle of Aboukir", "The View of the Camp of the Imperial Army in the Field of Moravia on a Evening before the Battle of Austerlitz", "The Battle of the Moskowa (Borodino)".
He died on February 29, 1848 in Toulouse, Haute-Garonne, and was buried in the Père Lachaise Cemetery (33th division) , in Paris.
Main portrait
"Louis-François Lejeune". Self-portrait.