Count of the Empire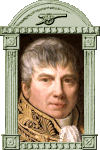 Enlarge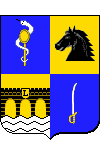 Michel Ordener was born at l'Hôpital, a small village in Lorraine, on September 2nd 1755.
He served during the Revolution as an officer, then during the Consulate and the Empire as a General.
He was made a Senator in 1806 and a Count in 1808.
He suddenly died in Compiègne on August 30, 1811.
He was buried at Paris' Panthéon

, vault II

.
Main portrait
"Count Michel Ordener" by Henri-François Riesener (Paris 1767 - Paris 1828)