Tzar of Russia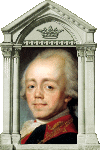 Enlarge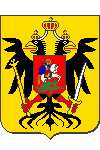 Paul Ist Petrovich Romanov was born in Saint Petersburg on October 1st, 1754.
In 1773 he married Wilhelmina of Hesse-Darmstadt (known as Natalia Alexeyevna) then, in 1776, Sophie Dorothea of Württemberg (known as Maria Feodorovna), who gave him ten children.
He became Tsar of Russia when his mother, the great Catherine II, died, on November 6, 1796.
He was assassinated in his palace during the night of March 11 to 12, 1801. His eldest son Alexander, who was perhaps not entirely unrelated to the murder, succeeded him.
Main portrait
"Paul Ist" by Stepan Semenovich Shchukin (1758 or 1762 - 1828).
Other portraits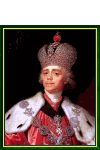 Enlarge
"Paul Ist of Russia" by Vladimir Lukich Borovikovsky (Mirgorod, Ukraine 1757 - Saint Petersburg 1825).