Grand duchess of Baden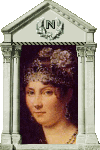 Enlarge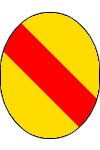 Stephanie de Beauharnais is the daughter of Count Claude de Beauharnais, elder brother of Viscount Alexandre François Marie de Beauharnais, first husband of Marie-Josephe-Rose de Tascher de la Pagerie. So Stephanie is first cousin of Eugène de Beauharnais and his sister Hortense.
She was born at Versailles on August 28, 1789, one month after French Revolution.
Emperor Napoleon I adopts Stephanie in 1806 and made her an Imperial Princess.
She marries the Crown Prince of Baden on April 8, the same year, at the Tuileries Palace in Paris. She gives him five children.
Stéphanie became Grand Duchess in 1811, when her husband accesses the throne of Baden. The latter died in December 1818. Stephanie settles in Mannheim until 1852.
That year she comes back to France, after the advent of Emperor Napoleon III. She died in Nice on January 29, 1860.
The Monaco Postal services issued in 2004 a 1.90 EUR stamp

featuring Stephanie de Beauharnais, for she is ancestor of Prince Albert II.